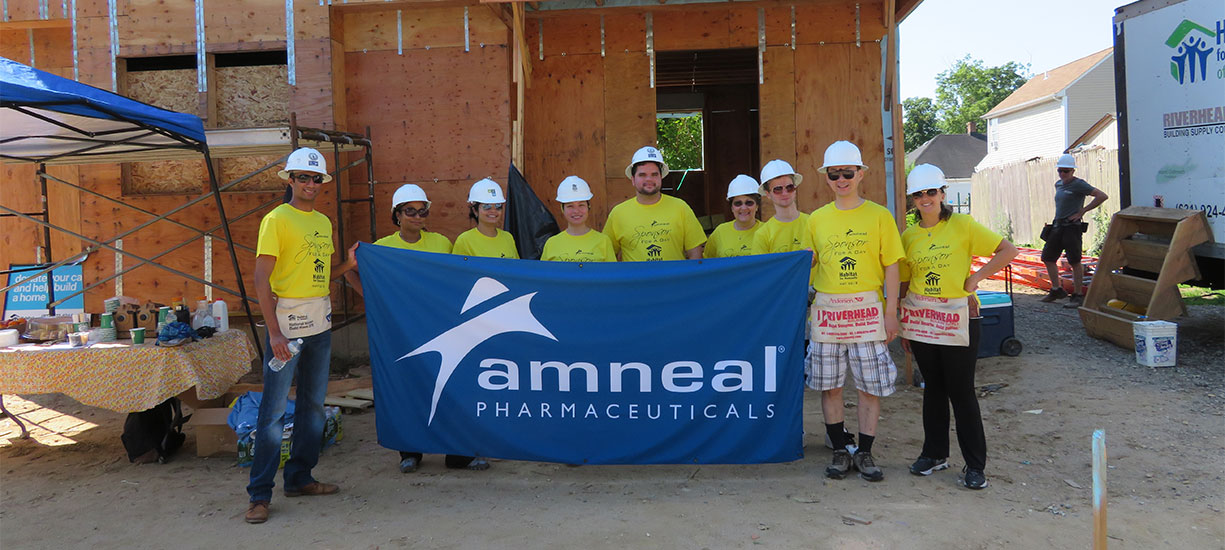 Long Island, NY Colleagues Brave Summer's Heat to Help Habitat for Humanity®
July 11, 2018
Our company actively supports the communities in which we live and work. Across all locations, colleagues are encouraged to take part in one of our many civic or charitable causes.
In New York, nearly a dozen of Amneal's Brookhaven and Hauppauge, NY-based colleagues recently braved the summer's first heatwave to help Habitat for Humanity of Suffolk construct a home for a single mom and her 13 year-old daughter.


Working more than six hours in sizzling 90+ degree Fahrenheit temperatures, the team of Amneal volunteers donned hard hats, tool belts and gloves to make significant progress in advancing the home's exterior construction. The day provided an excellent opportunity for colleagues from Human Resources, Quality, R&D, Engineering and Tech Ops to work together in support of a great cause.
In addition to the volunteers, Amneal has also contributed financial resources toward the build. We are following the project's continued progress and look forward to seeing the family get a fresh start in their new home. Thank you to all our colleagues who gave their Saturday to make a difference for others. Congratulations on a job well done!
See How We Touch People's Lives
© 2023 Amneal Pharmaceuticals LLC. All rights reserved.